Matt Franz '25 never pictured himself going out on his own for two months, working thousands of miles from home in a foreign country, and living with other college students from around the world who barely spoke the same language.
But the rising sophomore from Johnstown, Ohio, did that this summer as an intern for the Austrian Economics Center (AEC).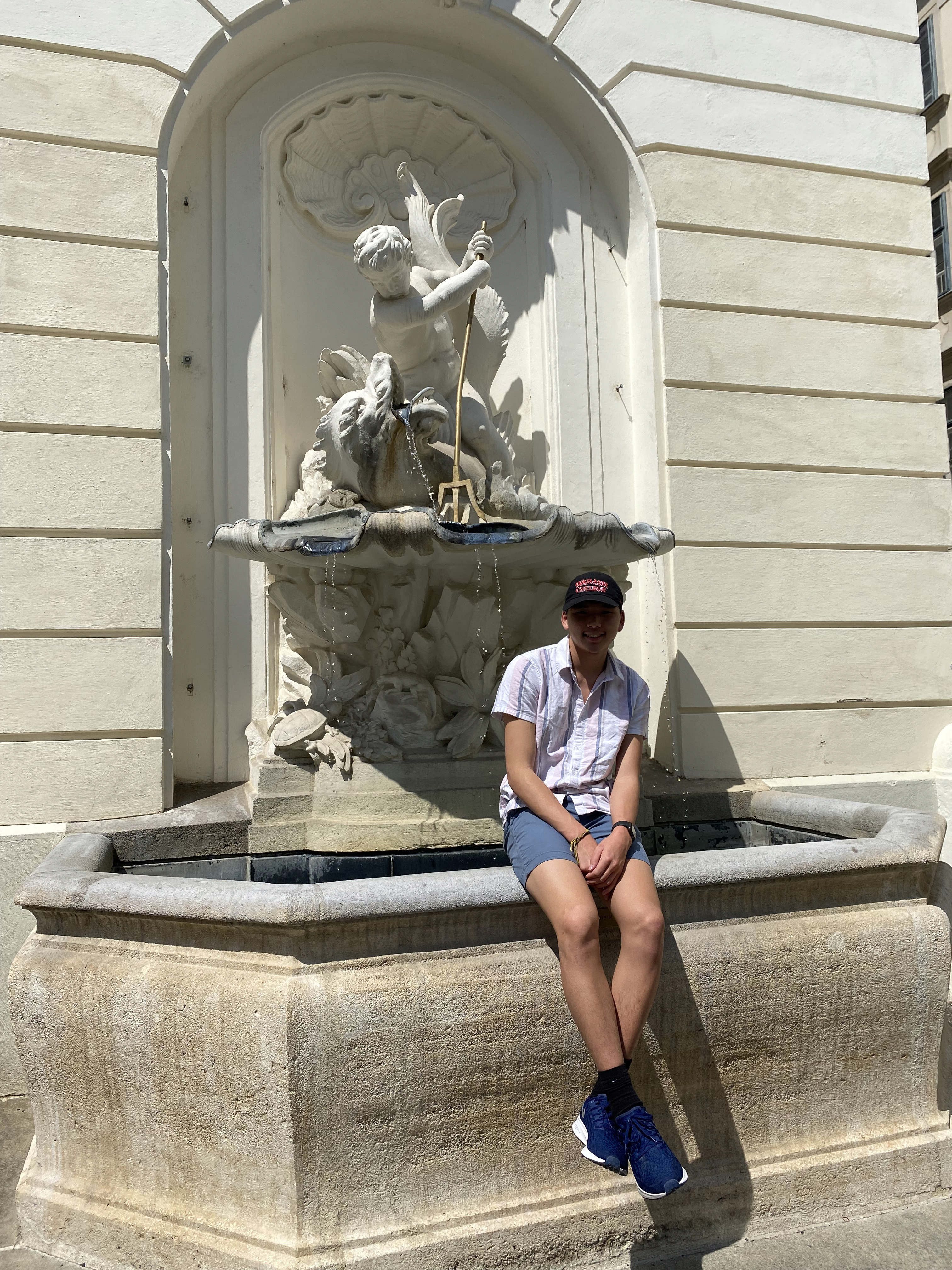 Franz credits the confidence he gained and the skills he learned during his first year at Wabash for motivating him to take advantage of the opportunity in Vienna, Austria. 
"Before the semester ended, I knew I had two choices. I could spend another summer working as a manager at McDonalds, or I could take a chance working for a think tank — something I had never done before and knew little about," said Franz, who is studying economics. "I couldn't pass up on an opportunity like that."
With the help of Lewis McCrary, special advisor to the president for public policy opportunities, Franz was able to land a fully-funded summer internship with the AEC, a politically independent research institute that considers public policies, identifies economic alternatives, and attempts to realize them based on rigorous analysis and academic research.
The AEC's mission is to promote a free, responsible and prosperous society, according to the center's website. To achieve this fundamental goal, it considers economic and socio-political questions, prepares studies, and recommends solutions.
In carrying out its work, the AEC addresses a broad audience — from entrepreneurs and business leaders to economic thinkers and policy-makers to scholars and students, both domestically and abroad. Through education and improving public understanding of key economic questions, the AEC promotes the idea of a free market economy and the ideal of a free society.
"The internship helped me grow and understand what I want for my future. As Wabash men, we are challenged to stand tall. This internship did just that," Franz explained. "The ability to study topics such as Hayek and the Austrian Business Cycle in Austria was surreal."
Not only did the Lilly Scholar learn more about free society, liberty, and Austrian economics at its origin, but Franz also got to learn more about himself. 
"I was a very stubborn person coming into college and thought no one was going to change my mind. I always thought I was more right-leaning when it came to economic policy and politics in general," Franz said. "Going into this, I even believed the internship would confirm my beliefs, but it actually moved me more toward the center.
"Being able to approach an issue with an open mind as a critical thinker has been one of the biggest things I've carried away from this experience," he said.
As an intern, Franz conducted research, assisted in coordination and planning of AEC projects, and wrote articles for the AEC website and Hayek Institute. He also got to assist with publishing reports on two of the center's key projects: the Free Market Road Show and European Resource Bank Meeting.
"I worked directly under an economics PhD and got to help him with his ongoing research. He'd pull five to 10 sources on a topic he was really interested in, like inflation, for example. I was responsible for reading through those documents, compiling notes, and then formulating the basis of a paper arguing his side of the issue," Franz said.
"He also had me pull sources and examine the other side," he continued. "That way, he not only had a well-rounded understanding of the topic at hand, but he was also able to formulate a better argument."
Nick Snow, assistant professor of economics and Tom and Anne Walsh professor of philosophy, politics, and economics (PPE), said Matt fits in perfectly with an internship like AEC offered because of his enthusiasm to fully understand economics.
"Economics is not right or left, it's not political. Economics is a positive social science. Matt understands that," Snow said. "One of things I've observed in class is that he really wants to learn how to figure things out. It's like puzzle solving. That's the role of economics, and Matt has a good mind for that."
Franz said putting the skills he's learned in the Wabash classroom to use, like communication, critical thinking, and leadership, helped him thrive as an intern.
"The first time I sent a report to my editor to be published on AEC's website, he came back and told me, 'Your writing is very American; we need to change a few things here and there.' The comment was surprising, but I took the critique as a learning opportunity," Franz said.
"I really had to think deeply about my writing and the audience. My audience was not going to be American citizens, they're people in the E.U. I had to think about how they were going to perceive what I wrote," he continued.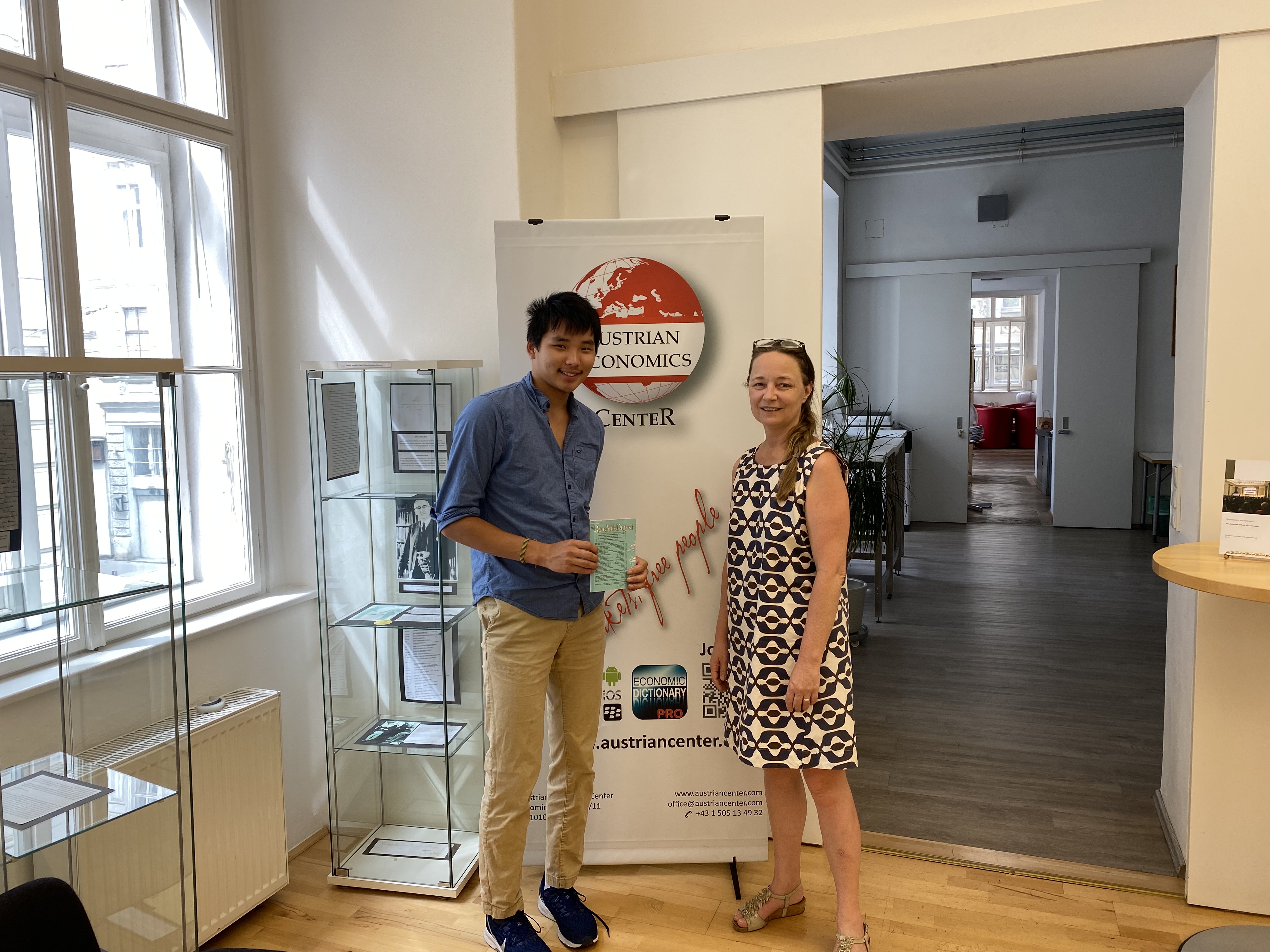 "It took a couple of tries, but I was finally able to figure it out and get a paper posted. It was that perseverance and ability to think critically that I learned at Wabash that helped me."
Franz's internship travel, housing and stipend was funded by Wabash's Stephenson Institute for Classical Liberalism, funded by Richard J Stephenson '62, a philanthropist and entrepreneur who is committed to a free society. His generous gift to the College is made possible by the support of Stephenson's family, including his wife, Dr. Stacie J. Stephenson, Dr. Christopher '87 and Jamie Stephenson, and Shawn '98 and Morgan Stephenson.
The institute has funded other internships for Wabash students, including jobs at the Indiana Policy Review, congressional offices, and the Salvation Army Headquarters.
"These opportunities truly are transformative for students," said McCrary. "We're thankful for the Stephensons and their support of students like Matt, someone who is very energetic, talented, and excited to learn and experience the world outside the traditional classroom."
link