For many hotels and resorts, snags in the global supply chain have made it incredibly challenging to procure everything from headboards to cabinets — even chicken.
"I think as a nation, we've all realized just how much we depend on [getting goods] from China, Vietnam and India, and with each Covid wave and lockdown, we saw more delays," said John "JR" Reynolds, general manager of California's Kissel Uptown Oakland, which is part of Hyatt's Unbound Collection. "And it's also been a labor issue, because even after cargo ships get here, there haven't been enough workers to unload them."
Although the Kissel was originally scheduled to open last October, the supply chain slowdown forced the property to delay its debut several times before it finally opened on Feb. 24. 
Still, only half of the property's 168 rooms are currently in operation, with the remainder awaiting a stalled shipment of headboards. According to Reynolds, those offline rooms are expected to open by the first week of April.
In Los Angeles, the recently opened Hyatt Place LAX/Century Blvd and Hyatt House LAX/Century Blvd, a 401-room, dual-branded hotel development, has faced similar supply chain setbacks.
The property had to delay its opening by roughly a year, in part because bathroom vanities, tile and wall coverings, among other materials and items, were in short supply due to factory closures and shipping delays.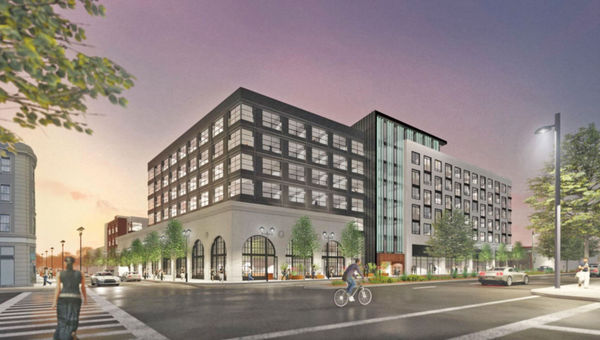 The Kissel Uptown Oakland delayed its opening several times due to supply chain problems. Photo Credit: Kissel Uptown Oakland
Sometimes, a solution could be found closer to home. 
When a factory shutdown in Vietnam made it hard to procure cabinets, the Hyatt Place and Hyatt House LAX/Century Blvd team partnered with a local cabinet fabricator in downtown L.A. instead. 
"[The fabricator] was grateful, as much of their other work was on hold due to the pandemic," said Aaron Schock, the property's owner and developer. "We saved tens of thousands of dollars on shipping costs since they were able to drive the finished products over to the property."
New developments are far from the only properties struggling to adapt to today's supply chain-related challenges, however.
"Any property that's going through renovation will be going through the same struggles," said Reynolds. "And any property that's just trying to replace things on a regular cycle, be it terry [towels] or linen or glasses, is also going to be struggling. We work in an industry where things need to be resupplied often."
According to a survey conducted by the American Hotel & Lodging Association (AHLA) late last year, 86% of U.S. hoteliers say supply chain disruptions have had a "moderate or significant impact on operations."
"When you combine supply chain disruptions with record high gas prices and historic rates of inflation, it means hoteliers are facing increasing costs in nearly every aspect of business operations," said AHLA CEO Chip Rogers.
Hard-hit in the Caribbean
Though virtually every market across the globe has had to grapple with supply chain disruptions over the past year, the Caribbean, a highly import-reliant region, has occasionally been more impacted than most. 
"Islands like Turks and Caicos, Antigua and the Caymans don't produce a lot of their own food, and so things just aren't getting to them on time," said Jennifer Doncsecz, president of Pennsylvania-based agency VIP Vacations.
"We'll get feedback from clients, saying, 'They ran out of a certain alcohol on day two,' or, 'Did you know they didn't have chicken for the entire week?'"
These days, Doncsecz is careful to manage clients' expectations when it comes to the availability of certain items.
"We're telling people going to some of the smaller Caribbean islands to just be prepared [for potential shortages]," she said. "And we encourage them to extend some grace and understand it might not be the exact same experience they had years before, because the hoteliers just can't get certain things."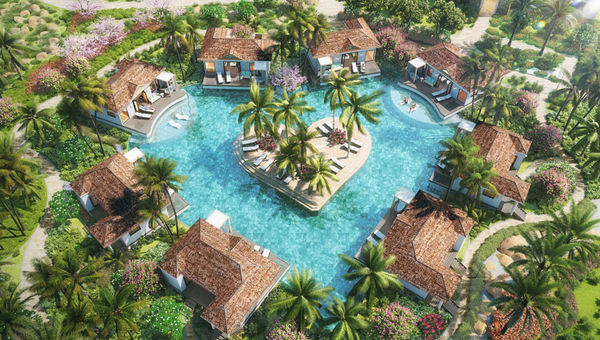 The Sandals Royal Curacao pushed back its opening due to supply chain issues. Photo Credit: Sandals
Supply chain issues were also cited as the main culprit behind Sandals' recent decision to delay the opening of the Sandals Royal Curacao. Originally set to welcome guests starting April 14, the 351-room property has postponed its opening date to June 1.
"Most of the current supply chain issues are outside of our control," said Gebhard Rainer, group CEO of Sandals Resorts International. "It's a persisting issue, but as a company, we stay focused on what is within our control — and that is first and foremost how we support our guests through any temporary delays, working with them one by one to deliver a seamless solution."
Kim Hartlen, a travel advisor and Sandals and Beaches specialist at Kim Hartlen Travel-TPI in Halifax, Nova Scotia, said that most clients impacted by a delayed opening opt to move their booking in order to remain at the resort they chose.
"I typically move the date to accommodate when that resort will be ready, and that could mean moving the trip a whole year out," said Hartlen. "But then what I'm also sometimes doing is booking them another trip for the dates they were originally planning on going. So, it does result in some new business for me."
According to Hartlen, continued supply chain-related delays and shortages aren't likely to faze travelers this year. In fact, booking activity has started to spike in recent weeks.
"I think at this point everyone understands that we are in challenging times," she said. "And I always tell my clients to remember, no matter where you're going, [that destination] has been affected by Covid, too, and you can't forget that."
link