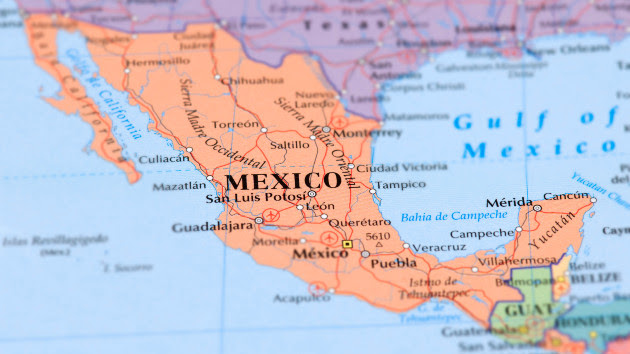 (NEW YORK) — Mexico is a longstanding popular travel destination for Americans, but is in the spotlight after four were kidnapped at gunpoint in Tamaulipas over the weekend. Two were killed, while the remaining two are back in the U.S.
AAA reported that international travel is up 30% as compared to last year, and Cancun, Riviera Maya and Mexico City are listed as top spring break destinations.
A source close to the investigation told ABC News that investigators believe the gunmen wrongly believed the kidnapped Americans were rival human traffickers who were in an area of Mexico categorized as "do not travel."
The State Department had previously issued six level four "do not travel" warnings to parts of Mexico.
"The travel advisory for Tamaulipas state remains at level four — do not travel. We encourage Americans to heed that advice," Ned Price, a spokesperson for the State Department, said on Tuesday.
Along with Tamaulipas, the State Department as "do not travel" warnings for Colima, Guerrero, Michoacan, Sinaloa and Zacatecas. Level four travel warnings are also instituted in places such as North Korea and Afghanistan.
The most popular Mexican tourist destinations have been rated a level two by the State Department, where travelers are advised to "exercise increased caution." This is the same rating given to France, Germany, the U.K. and a dozen other countries.
Violence in Cancun sparked headlines in 2021 after multiple shootings took place near popular beaches, including a shootout at a beach between rival gangs, which left tourists hiding behind beach chairs.
Mexico has since dispatched hundreds of national guardsmen to patrol beaches along its Atlantic coast.
Expert tips to stay safe when traveling abroad
"Passenger volume between the U.S. and Mexico this January, January 2023 actually up 24% compared to the same month in 2019," Scott Keyes, the founder of Scott's Cheap Flights, told ABC News' Good Morning America.
"You're not seeing a huge increase in prices to places like Cancun or Cabo because airlines see that rise in demand and have responded by adding capacity, adding flights to the schedule, larger planes," Keyes said.
As with all international travel, experts advise avoiding traveling with large sums of money or all of your important documents, using trusted taxis only and staying clear of anywhere you might find drugs being sold.
"It's important to keep it in perspective, most areas that you can be traveling in and that you can feel safe and secure as long as, again, you're taking those sort of standard common sense precautions," said Keyes.
Copyright © 2023, ABC Audio. All rights reserved.

link